March 01, 2021
For COVID-19 to shift from pandemic to endemic status, enough people must be vaccinated by any of the approved vaccines to achieve herd immunity. Reaching herd immunity of approximately 75% of population vaccinated requires vaccinating over 90% of adults, as currently no vaccines are approved for children under 16.
The Role of Employers in Vaccinating Against COVID-19 and Vaccination Status Worldwide
For this to take place, a variety of factors must align:
Additional vaccine approvals and an increase in supply;
Vaccine acceptance by the public;
Removal of cost barriers for patients; and
Equitable distribution and vaccine accessibility globally.
At this point, the vaccine supply is the biggest challenge; the demand is greater than the number of vaccines doses available. However, it appears that by mid-summer, the projected vaccine supply in the U.S. will be more than enough to vaccinate everyone over the age of 16:
Once supply is no longer the primary concern, the focus will shift to reducing barriers and amplifying the role employers can play. Furthermore, demand for the vaccine is expected to increase as more groups become eligible. Public confidence is also expected to grow, especially as more efficacy data emerges based on responses of those already vaccinated. At this stage in the process, employers and the public sector will need to work together to reduce barriers to access.
Each country around the world will face different vaccine distribution challenges, although some of the same solutions will apply. The need to open vaccination sites where people can reach them with as few barriers as possible will result in opportunities for new partnerships between employers, health care providers and the public health sector.
The Role of Employers in Vaccinating Against COVID-19
Employers can play a pivotal role in getting employees, and the broader community, vaccinated against the COVID-19 virus. The role of each employer may be different, depending on the industry they operate in, the size of their workforce and the type of resources at their disposal.
This document will take a deeper dive into each of the areas outlined below, providing actionable information for employers regarding:
Creating communication campaigns to provide reliable and timely information about vaccines, vaccine availability and eligibility, and to reduce vaccine hesitancy;
Navigating their employees to vaccination sites;
Reducing vaccination barriers for their employees by covering the cost of the vaccine, scheduling and time off flexibility and possibly considering vaccination incentives;
Supporting vaccination efforts through setting up vaccination sites for their employees and, if possible, families and others in the local community; and
Reducing racial inequities in vaccine distribution that have emerged from the early days of the distribution process.
Vaccination Status Worldwide
The prevalence of vaccinated people on a per capita basis varies greatly at this early stage. The tracker to vaccination status by country can be found in the appendix.
Available Vaccines
The vaccine clinical pipeline is rich with more vaccines in development. For those interested in what else may be coming and the status of vaccine approvals globally please refer to the appendix.
Who Should Get the Vaccine and in Which Order? Understanding Distribution Guidelines
The Advisory Committee on Immunization Practices (ACIP), convened by the Centers for Disease Control and Prevention (CDC), has developed a COVID-19 vaccine prioritization framework (Figure 1):
Although the CDC makes recommendations about how COVID-19 vaccines should be prioritized, each state must develop more detailed plans outlining who will be vaccinated first and where. Employers are advised to contact their local health departments for more information on COVID-19 vaccination in their area.
This situation is complicated for global employers. They are forced to navigate the rules of multiple states, localities, and countries. to inform their employees about vaccination eligibility and availability. The guidelines are evolving quickly as vaccine deployment continues around the world, and countries and states move between different prioritization phases.
Figure 1: Proposed Phase of COVID-19 Vaccination
According to the CDC's website, the recommendations were made with these goals in mind:
Decrease death and serious disease as much as possible.
Preserve functioning of society.
Reduce the extra burden COVID-19 is having on under-resourced communities and populations.
Effective Communications about the COVID-19 Vaccine
Employers can have a significant impact on vaccination efforts by providing fact-based information and links to other resources, playing a critical role in health promotion. Conducting effective communication campaigns with evidence-based information and support can go a long way toward easing concerns of those hesitant to be vaccinated. In particular, special attention needs to be given to those taking a "wait and see" approach (Figure 2):
According to a January 2021 Business Group on Health survey, 80% of surveyed employers are planning to communicate with employees about the COVID-19 vaccine. In contemplating a vaccination communication approach, here are ways to provide employees access to credible, timely information on vaccination efficacy and availability:
Figure 2: More than Four in Ten Young Adults, Black Adults Say They Want To "Wait And See" Before Getting COVID-19 Vaccine
Determine company messaging regarding the COVID-19 vaccine based on your overall strategy. Options include:

Provide credible information and encourage employees to make the decision on their own;
Highlight any convincing points on the benefits of the vaccine to persuade employees to get the shot;
Issue a "call of duty" message that getting the vaccine is the right thing to do for the company and community; and
Include balanced communications about possible side effects, how common they are for other vaccines and company policies for anyone who may experience more severe reaction.
Direct employees to official resources from the Centers for Disease Control and Prevention (CDC) and the World Health Organization (WHO).
Look to clinical staff (e.g. chief medical officers, clinic nurses, etc.) to host town halls to answer any questions that employees may have about the vaccine's impact on themselves, their families and their interactions with colleagues and customers.
Partner with employee resource groups (ERGs), community leaders and employee advocates in implementing communication campaigns to address concerns and dispel myths about the vaccine. Data from the CDC show early evidence of racial and ethnic disparities in intent to receive the vaccine as well as actual vaccination rates. See Section 7 for more ways to address health inequities.
Repeatedly communicate where and how to navigate to a vaccine site. Direct employees to vaccine trackers (where available) to search for available doses and appointments. Local HR and supervisors will be instrumental in sharing this information, so ensure that they have resources and information about where to direct employees.
Promote employee testimonials when the vaccine is widely available to your workforce. Some employers have leveraged social media campaigns with the message, "I got mine" inviting employees to celebrate their own vaccination and in turn inspiring vaccine confidence in others. While a cheerful way to acknowledge vaccine supporters, this approach should be used with caution as access is not widespread at this point – a frustrating circumstance for employees and their families awaiting their turn.
Compile resources into one centralized place and include credible sources of efficacy, FAQs and tools to help employees find a vaccine site (e.g., a navigator, local/state vaccine sites).
Strategies for Encouraging Vaccine Uptake
Incentives
Past employer experiences with financial and non-monetary incentives show that they can be effective in capturing attention and rewarding a desirable action. Building on this past success, some employers are offering, or considering offering, an incentive for employees to get fully vaccinated. A majority of respondents (55%) to a January survey of Business Group on Health employer members were unsure if they were going to provide an incentive, perhaps because it was too early in the vaccine distribution process to make that decision.
The following types of incentives have been used by employers:
Paid time off to get the vaccine and manage side effects;
Extra pay (e.g., 4 hours) for hourly workers getting the vaccine on their own time;
Incorporating the COVID-19 vaccine among ways an employee can earn wellness points to use toward various rewards;
Covering the cost of the vaccine administration fee for those not on the health plan (the actual vaccine is paid for by the federal government in the U.S.);
Community giving, including company-wide charitable donations;
An extra day off for all employees if the company reaches a certain threshold of employees vaccinated; and
A spot incentive for providing voluntary documentation of vaccination.
Vaccine Mandates
According to the Equal Employment Opportunity Commission (EEOC) guidance, employers have the regulatory latitude on whether to require an employee to get the vaccine as a condition of employment or to return to the worksite. However, appropriate accommodations must be made under the Americans with Disabilities Act (ADA) and Title VII of the Civil Rights Act. (See the EEOC's list of Technical Assistance Questions and Answers for more information).
That being said, few employers are pursuing mandates. A recent Business Group on Health survey found that only 1% of employer participants will require employees to get the vaccine as a condition of employment; 5% are doing so for employees to return to the worksite (Figure 4). Employers' decision is based largely on the industry and the type of work done by employees. For example, some employers with employees who are health care or long-term care providers or work at provider sites; have to travel for their job; or go to a client site are considering making vaccination a requirement. Down the road, employers may add to that list those who have consumer-facing roles.
Figure 3: Large Employers' Plans for COVID-19 Vaccination Mandate in the U.S., January 2021
Additional variables that employers with a geographically diverse workforce will have to take into account are local laws and requirements. Finally, some companies are not considering mandating vaccination while the vaccines are under Emergency Use Authorization but may do so in the future, when the status of the vaccines changes.
Tracking Vaccine Uptake Rates Among Employees
To aid tracking on where vaccination rates are lagging, employers can request vaccine utilization data from their health plans and pharmacy benefit managers (PBMs) by age, carrier and state/location. This knowledge could help employers and their communication partners to direct more targeted communications to certain populations as a way to encourage vaccine uptake.
Employers may also need to track who has received the COVID-19 vaccine for other reasons: rewarding incentives, determining eligibility to report to a worksite, contractor requirements, measuring impact of communication efforts or even to determine if a worksite can be reopened. While employers are in the early stages of assessing the impact of vaccinations on their workforce strategy, this is a process every employer should establish. Questions to consider include:
Will you require employees to report vaccination status, or make it voluntary?
What is required to prove that an employee was vaccinated? (Some employers are relying on the CDC's vaccination card.)
Will employees enter information into a specific tool, app or website?
What information will be collected (e.g., type of vaccine, dates of inoculation)? Will you collect this information after employees have received both shots or after they have first shot?
Navigating Employees to Vaccination Sites
Approved vaccination sites are most commonly found in hospital, clinic, and pharmacy settings. However, with the recent involvement of the Federal Emergency Management Agency (FEMA), mass vaccination sites are being set up in sports venues, convention centers and other suitable places. The Biden-Harris Administration also announced that the Department of Defense will lend military and emergency personnel to assist in vaccine distribution efforts, alleviating pressure on local health providers.
Additionally, many retail pharmacies are already administering vaccine doses that have been allocated to them by the states. Under the CDC Federal Retail Pharmacy Program announced on February 2, 2021, aimed at broadening access to the vaccines, the federal government will start shipping excess vaccine doses directly to retail pharmacies. All of this lends itself to an increased number of locations in which individuals can receive the vaccine. Each of the pharmacies participating in the program will adhere to the current state eligibility guidelines and follow eligibility attestation protocols.
Employers should work with their PBM partners to ensure that pharmacy networks are sufficiently broad to facilitate distribution. In addition, any contracting adjustments that govern pharmacy reimbursement for vaccine administration should be made ahead of time, to ensure seamless access and coverage.
To facilitate seamless access to vaccines distributed by retail pharmacies, employers should consider providing coverage for vaccine administration both through their medical plan benefit and their prescription drug benefit (through their pharmacy benefit manager (PBM)), as most pharmacies do not have the systems in place to submit medical claims.
Because of the variety of vaccination sites and a patchwork of vaccination eligibility rules and appointment scheduling approaches, many feel confused and frustrated. Furthermore, at this point, there is no centralized tool to support employees looking for a vaccination site, adding to the confusion and frustration. As a result, some employees have turned to their employer for help finding sites with vaccination availability. Employers should encourage their employees to monitor information disseminated by each state's public health department. Signing up for local newsletters and monitoring the appropriate county COVID-19 vaccine page are some of the best ways for employees to get timely information specific to where they live.
Other navigation tools have and will continue to emerge, including those run by the states or specific to pharmacy chains. Some examples of such tools include: California Department of Health's CalVax, UnitedHealthcare's Vaccine Resource Locator, CVS Pharmacy Vaccine locator, among others. Development is underway on another tool called Vaccinefinder.org. This tool is being developed by the CDC, in partnership with Castlight, and will be designed as a reliable database of vaccine site availability. The data, reported daily by registered vaccination sites, will include the retail pharmacies participating in the federal program. Through Google and potentially other partnerships, the vaccine availability data collected will facilitate the search for available sites in every zip code.
In addition to navigating employees to sites with available vaccines, employers, when necessary, can provide a documentation of vaccine eligibility, based on the nature of the job or the worksite. Requirements for attestation appear to vary from state to state. CDC has stated that the overarching goal is not to waste a single vaccine. As a result, there may be a conscious effort to not create too heavy an administrative burden for vaccination sites, patients or their employers by requesting that they provide proof of eligibility. In some cases, self-attestation alone is sufficient.
Considerations for Creating Employer Vaccination Sites
From early in the vaccination process, public and private partnerships have emerged to assist with vaccinations. Some examples include:
Airlines such as United and Delta adapting their planes to fly the vaccine from factories to airports around the country, FedEx and UPS lending their mass distribution network in the air and on the ground to get vaccines to their final destinations.2
Disney Theme parks and sports stadiums being converted to mass vaccination sites.
Retailers offering not only the retail pharmacies but also the parking lots of their stores for vaccination sites, with the hope of reaching those located in remote areas.
Hospitals not only vaccinating their frontline workers but becoming the first clinics where eligible members of the general public are able to get their vaccines.
CVS Pharmacies deploying vaccines to long-term living facilities to protect those who emerged as most at risk of fatal outcomes from COVID-19.
Starbucks, Microsoft and Costco lending logistical expertise and manpower to public agencies.
Setting up Employee Vaccinations Clinics and Drive-through Sites
Many employers have expressed interest in bringing vaccination efforts on-site. For some, this effort has already begun. Those managing health care settings are vaccinating their own frontline workers at the same time as they have opened their clinics to the public. Retailers with on-site pharmacies are also vaccinating their eligible store workers.
For others, the decision of whether to set up vaccine point of dispensing (PODs) depends on the industry they operate in, how broadly vaccine will be available in the community and retail pharmacy settings, how many vaccine-eligible employees they have in large locations, the type of facilities they can dedicate to set up a safe, registered vaccination site, and the availability of trained personnel.
Those who have tried to set up clinics for their eligible employees cite obtaining vaccine allocations as the main barrier. Vaccine procurement is an effort that even for national employers happens at the local level, as all vaccine supply is currently distributed to the states first for further allocation to approved vaccination sites according to each state's guidelines.
To simplify that effort, some primary care clinics/providers have developed relationships with employers, providing "know-how" on obtaining the vaccine allocation through local authorities. They have also provided expertise in setting up safe vaccine PODs, deploying clinical personnel and scheduling resources. Partnering with a local clinic may be one way for employers with large numbers of eligible employees to start their on-site or near- site vaccination efforts.
Here is a Ione example of such a collaboration:3
Tyson Foods, Inc. is partnering with Matrix Medical Network® (Matrix) to ensure the company's U.S. team members are educated about and have access to the COVID-19 vaccines. Matrix will collaborate with Tyson Foods' health services team to deploy mobile health clinics and expert clinical staff to support vaccine communications, administration and counseling at Tyson Foods facilities beginning in early 2021 and continuing throughout the year. Tyson Foods will provide team members with third-party education information in multiple languages from resources such as the U.S. Centers for Disease Control about the vaccines and vaccination process.
Employers need to keep in mind their long-term strategy despite current difficulties securing vaccine allocations. Vaccines are not "one and done"; more will come to market; boosters will be required for variants and vaccination frequency is not known. It isn't unrealistic to imagine a scenario in the not-too-distant future in which COVID-19 vaccination efforts will mirror those of flu vaccination efforts in the workplace. For that reason, it may not be too early for employers to think about how to structure their on-site vaccination efforts. Such on-site or near-site availability may be convenient and critically important in vaccinating those more hesitant and those who had difficulty getting the vaccine in other settings.
Setting up a safe and operational vaccination site takes planning and investment, making this approach unlikely for the vast majority of employers. However, for those interested in exploring this option, below are some criteria to bear in mind:
Registering as an authorized vaccine distribution site and meeting all requirements, including on- site refrigeration;
Securing an allocation of the vaccines for each location separately through each state/local health department;
Ensuring that the site meets all social distancing and safety standards and is equipped with PPE;
Ensuring that the site is equipped to handle emergencies related to severe allergic reactions;
Providing staffed observation/ monitoring rooms;
Deploying scheduling, registration and communication tools necessary to efficiently manage the vaccinations at that site, control for vaccine waste and to provide reliable second appointment scheduling; and
Providing specific traffic flow from registration through waiting area, vaccination area and exit from the site.
Vaccine Cost
In the U.S., the cost of the vaccine is also a concern and is a barrier that can be addressed by employers. While the vaccines have been procured by the federal government, meaning that the vaccine itself is free. for the insured population, the health plan or a PBM will cover the cost of administering the vaccine if the networks are set up appropriately to include vaccination sites. For uninsured employees, some employers have considered issuing vouchers to cover the cost of the administration fee. It is worth noting, however, that the administrative costs incurred by uninsured employees can be filed for reimbursement under the HRSA fund, which was established early in the pandemic to cover the cost of COVID-related treatment and testing for those without health insurance.
Addressing COVID-19 Vaccine Hesitancy and Equitable Distribution
Providing fact-based information about the effectiveness of vaccines in general and sharing current information from health experts on the safety protocols and efficacy findings of any new vaccine can help build confidence and trust among employees. However, it is also important to understand that there are reasons why some groups within society may be more hesitant than others. Therefore, communications must be adjusted accordingly.
The degree of hesitancy many have toward receiving COVID-19 vaccines is well documented, with only 56% of respondents from a December 2020 nationally representative JAMA survey reporting they would likely get vaccinated.iv The history of systemic racism and specific examples of its consequences in clinical trials and health outcomes for minorities have eroded Black and Hispanic communities' trust in vaccines and the overall health care system. Compared to White adults, more respondents from both groups reported a "wait and see" approach to if they'll get the vaccine themselves.v Similarly, those living in rural communities are more likely to report that they definitely will not get a COVID-19 vaccine or would only do so if required. Early data suggest that while these communities are receiving vaccines, ensuring that they are actually administered to people living there remains a challenge.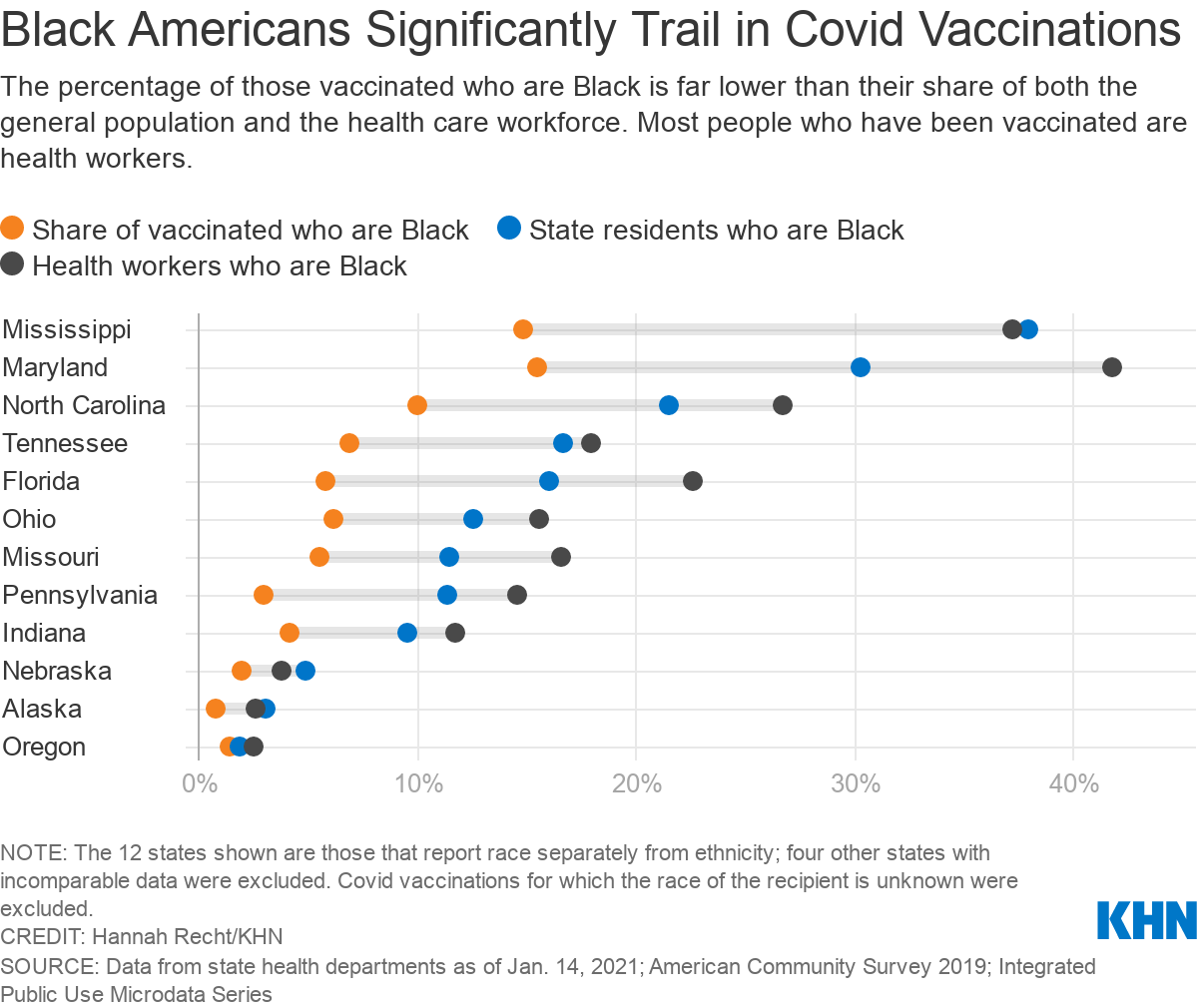 Figure 4: Black Americans Significantly Trail in COVID Vaccinations
Source: https://khn.org/news/article/black-americans-are-getting-vaccinated-at-lower-rates-than-white-americans/
Equitable vaccine distribution is essential to combatting hesitancy and increasing overall enthusiasm for receiving COVID-19 vaccines. According to a recent Kaiser Family Foundation survey, approximately 52% of Black adults reported they are "not too" or "not at all" confident that the vaccine distribution efforts are taking into account the needs of Black people, with only about 58% of Black adults saying they are confident that the COVID-19 vaccines in the U.S. are being distributed fairly.6 This concern is not unfounded: Across the 23 states reporting vaccination data by race/ethnicity, there was a consistent pattern of Black and Hispanic people receiving smaller shares of vaccines compared to their shares of cases and deaths and compared to their shares of the total population.vii
As large employers consider establishing their own vaccination efforts, there are several factors to keep in mind:
Location matters: COVID-19 has hit communities of color the hardest, along with those of lower socioeconomic status. When standing up a vaccine site, consider using locations that are accessible by multiple modes of transportation as well as those in proximity to these communities.
Use trusted messengers: While demonstrated efficacy is important to convincing the public to get the vaccine, many will also rely on the counsel of trusted advisors. Kaiser Family Foundation reports that the top three trusted stakeholders for those deciding whether to get vaccinated include doctors and other health care providers, the CDC and state/local public health departments. Consider featuring medical providers (to the extent that it's possible) in communication campaigns, along with community members that others can identify with.
We all play a role in ensuring that the vaccine distribution process does not deepen existing health inequities. The pandemic has reminded us that infectious disease knows no boundaries and that, as a global community, we are only as protected as our most disadvantaged citizens.
General Coronavirus Data:
Vaccination Status (Worldwide):
Vaccine Supply:
Communications Resources:
Vaccine Regulation
This content is for members only. Already a member? Login
Join today to gain access to member-only resources!
Learn More